Tenant insurance, also sometimes called renters insurance, is a type of policy that protects tenants and their personal belongings when disasters and accidents strike. It functions the same way as contents insurance in a homeowners insurance policy, but covers your possessions if you're living in the following type of rental properties: 
House  

Apartment 

Condo  

Shared home 

School accommodation 
Tenant insurance is not legally required in Canada, although many landlords make it a condition of the rental agreement. 
One of the biggest misconceptions preventing many from purchasing coverage is the belief that the renters' personal belongings are already covered under their landlord's policy. But that is simply not the case. While it is true that it is the landlord's responsibility to obtain coverage for the rental property and its fixtures and fittings, this type of protection – aptly called landlord insurance – does not include the tenants' possessions. For you to be protected, you must purchase a separate tenant insurance policy. 
Tenant insurance pays out the cost to repair or replace your belongings should they be lost, damaged, or destroyed by a named peril.  

There are two ways in which you are paid under a tenant insurance policy:  
Actual cash value: Also called ACV, this type of policy reimburses what the item was worth at the time of the loss or damage. 

Replacement value: This policy covers the full cost of replacing lost or damaged possessions with brand-new versions. 
Named perils, ACV, replacement cost – find the meaning behind these and other common industry buzzwords in our glossary of insurance terms.   
Standard Canadian tenant insurance provides three types of coverage. These are:  
1. Personal belongings coverage 
Depending on the policy, tenant insurance typically covers loss or damage to your personal possessions caused by the following perils: 
Fire and smoke 

Lightning and explosion 

Windstorm and hail 

Escape of water 

Burst pipes 

Theft or attempted theft 

Vandalism and other malicious acts 

Riots and civil disturbances 

Collapse of any part of the rental property 
The table below details what items are covered by most tenant insurance policies.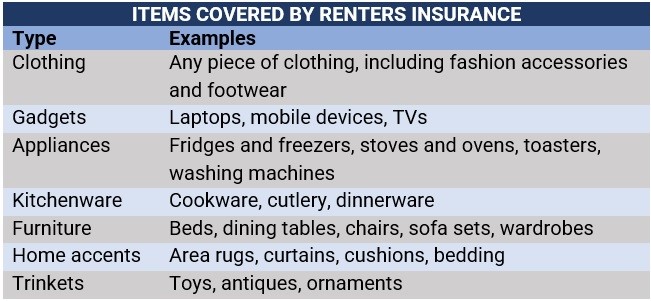 Tenant insurance often imposes special limits on more expensive belongings, including jewelry, musical instruments, and artworks. You may need to purchase a rider to extend coverage to these items. Some policies cover spoiled food due to power interruption or if your refrigerator or freezer breaks down. Others cover lock replacement if your keys are lost or stolen.  
Tenant insurance provides protection for a range of items you may never have thought of. Check out this list of unusual things your home insurance policy may cover.  
2. Tenant liability protection 
Also called personal liability coverage, this part of a tenant insurance policy provides financial protection against: 
Personal liability: Covers lawsuits and other legal expenses arising from injuries to other people while on the rental property, including those caused by dogs and other pets. Also covers damages to other people's property that you, the tenant, is responsible for.  

Medical payments: Pays out for hospital and treatment expenses incurred if a guest gets injured while on the property you are renting, regardless of who is at fault. 
3. Additional living expenses  
Also referred to as ALE, this is the part of a tenant's insurance policy that covers living expenses incurred if you need alternative accommodation because the rental property has become uninhabitable. Coverage typically includes the following, but is subject to limits:  
Hotel stays 

Temporary rental accommodations  

Food costs above the policyholder's norm  

Storage fees  

Moving costs 

Laundry expenses  

Additional fuel costs  

Rental car and other transportation expenses  
Each policy provides different levels of coverage, so the terms and conditions also vary depending on the insurance provider. Tenant insurance in Canada typically has the following exclusions: 
Certain types of perils: Loss or damage caused by earthquakes, floods, sinkholes, and sewage backup are not automatically covered, but you can purchase riders to get protection. 

Pest infestation: Damage to your personal belongings inflicted by bugs, mice, and other pests is not covered and you may have to pay for it out of pocket. 

Physical structure of the property: This is covered by your landlord's insurance, although you may have to pay for accidental damage such as if you unintentionally smash a window or spill wine on the carpet. 

Vehicular damage: Damage or losses to vehicles parked within the rental property's premises, including car theft, are not covered, but they should be covered by your auto insurance policy. 

Your roommate's belongings: If you're living in a shared accommodation, tenant insurance does not typically cover your roommate's possessions unless you share the policy with them – something that some insurers do not allow. 
I know there's obviously bigger things to worry about during the extreme cold warning.

but if you're a tenant and don't have tenant insurance yet:

buy it NOW. A burst pipe WILL NOT BE GOOD.


— rob 🔨 (@rbngrhm) February 3, 2023
What additional coverages can Canadian tenant insurance policyholders use? 
Another misconception about tenant insurance is that it provides limited coverage, making purchasing such policies an unnecessary expense. The truth is, however, tenant insurance provides flexible coverage that can be tailored to suit each tenant's unique needs. If a standard tenant insurance policy is not enough to meet your coverage requirements, there is an array of add-ons or endorsements you can use to extend protection. These include: 
Personal articles coverage: For expensive items that exceed the maximum coverage limits. 

Earthquake damage: As the name suggests, it covers losses or damages caused by earthquakes. 

Water damage protection: Varies in each province, this pays out for damages resulting from accumulated rain, sewer backup, leaking appliances, and freshwater flooding.  

Home business insurance: Covers loss or damage to business-use items and equipment such as laptops and mobile phones. If you're running a business inside your rental home, you may want to consider taking out these small business insurance policies. 
Based on the calculations of several price comparison websites Insurance Business reviewed, standard tenant insurance premiums in Canada go for between $15 to $40 per month, or $300 to $480 annually. If you want to know which insurers offer the best tenant insurance in Canada, you can view the list in our latest rankings.   
However, because each renter comes with a different set of circumstances, tenant insurance does not have a fixed rate for everyone. Just like in other types of policies, tenant insurance premiums are influenced by a range of factors. These include: 
The level of coverage: An extensive policy with several endorsements suits tenants who own many valuable items, but this will also push up insurance costs. 

The rental home's location: Some areas are more prone to disaster than others, making premiums more expensive. Annual rates in British Columbia, for instance, are higher than those in Ontario because natural calamities such as floods and forest fires are more common in BC. 

Rental property's construction: Premiums for contents in concrete high-rise buildings are significantly less than for those in an apartment or a low-rise building made of non-fire-resistive materials. 

Your claims history: Prior claims can drive up tenant insurance rates. 

Your credit score: Insurers perceive those with a poor credit history as being more likely to make a claim. Not all provinces, however, allow insurance providers to use credit ratings as a basis for premiums. Newfoundland and Labrador prohibit this practice, while Ontario and Alberta limits it to auto insurance, so other policies like tenant insurance are fair game.  

The deductible amount: Generally, the higher the deductible, the lower the premium and vice versa. Do you want to know why? Check out how insurance deductibles work in our comprehensive guide.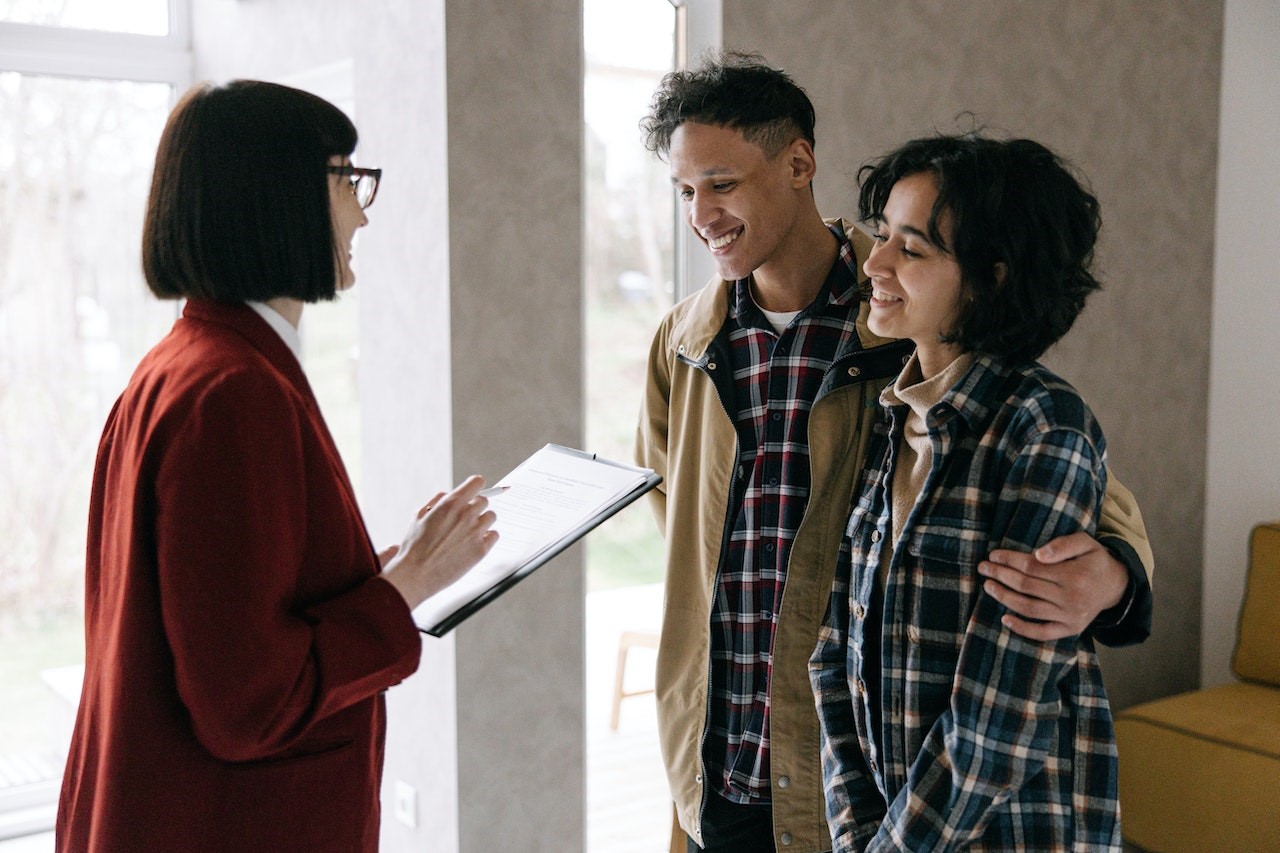 The answer to this question is entirely up to you. Because each tenant's situation is unique, there is no one-size-fits-all amount that can cover every need. The amount of tenant insurance you should take out should be enough to pay for the repair and replacement expenses if an unexpected accident or disaster damages or destroys your belongings. 
Coming up with a precise estimate of the cost of your possessions, therefore, is crucial:  
Overestimate how much your belongings are worth, and you may end up paying unnecessary premiums.  

Underestimate and you may find yourself shelling out the remainder of the cost. 
The internet is replete with personal property calculators from insurance companies and price comparison websites that you can easily access to get an accurate estimation. You can also consult an experienced insurance agent or broker to help you work out the true amount.  
Tenant insurance is among the most affordable types of policies you can take out, but that does not mean you cannot save on premiums. Here are some practical strategies you can use to slash tenant insurance costs. 
Shop around and compare quotes. 

Opt for annual payments instead of monthly instalments. 

Bundle tenant insurance with your auto insurance policy.  

Skip coverage that you do not need. 

Increase your deductible, or the amount paid out of pocket, to a level you can afford. 

Keep an up-to-date inventory of your personal belongings. This includes keeping receipts and invoices. 

"Schedule" your most important and irreplaceable possessions such as engagement rings, family heirlooms, and original art pieces. 

Consent to a credit check when asked as some insurers offer up to 20% discount if you do so. 

If possible, choose a safe neighbourhood to live in. 
While accidents and calamities are not regular occurrences, it is still important to get protected. These events happen when you least expect them and tenant insurance gives you the peace of mind in knowing once they hit you, you have the financial safety net to help you recover.  
But one thing to keep in mind is that tenant insurance is not for everyone. If you can afford to replace all your possessions if it gets damaged or lost, then you need not purchase coverage. Same if you have very few possessions.  
However, if you own several valuable items that you cannot easily replace, then having this kind of protection is vital. Tenant insurance is likewise essential for those living in high-crime areas where theft is rampant or those prone to natural disasters such as forest fires and flooding. As many industry experts attest, tenant insurance is among the cheapest and easiest types of coverage you can obtain, making it generally a smart investment. 
Tenant insurance works almost the same worldwide but there are slight differences keep in mind that if you are moving outside of Canada, in most countries tenant insurance is actually called renters' insurance. Check out our global renters insurance guide to learn more.  
Do you think tenant insurance is a worthwhile investment in Canada? Share your thoughts below. 

link