A new survey has found that 40% of insured drivers are stressed about paying for their policies, underscoring growing tension in the auto insurance sector.
The Policygenius study also found that 43% of drivers are paying more for their car insurance than they were last year. Its poll revealed that among drivers aged 18 to 34, 56% of people considered driving without insurance throughout the past year, and said 17% have actually done it.
"Our survey found that people are changing their behaviors, and sometimes even going so far as to take a major financial risk by driving completely uninsured," said Andrew Hurst, a Policygenius licensed property and casualty insurance expert. "Car insurance is getting expensive for most people but there are ways you can make your insurance more affordable.
"Re-shopping your insurance before it's time to renew is the best way to make sure you're getting the right coverage at an affordable price but you can also check to see if there are any discounts you qualify for and adjust your coverage based on your car's age and value."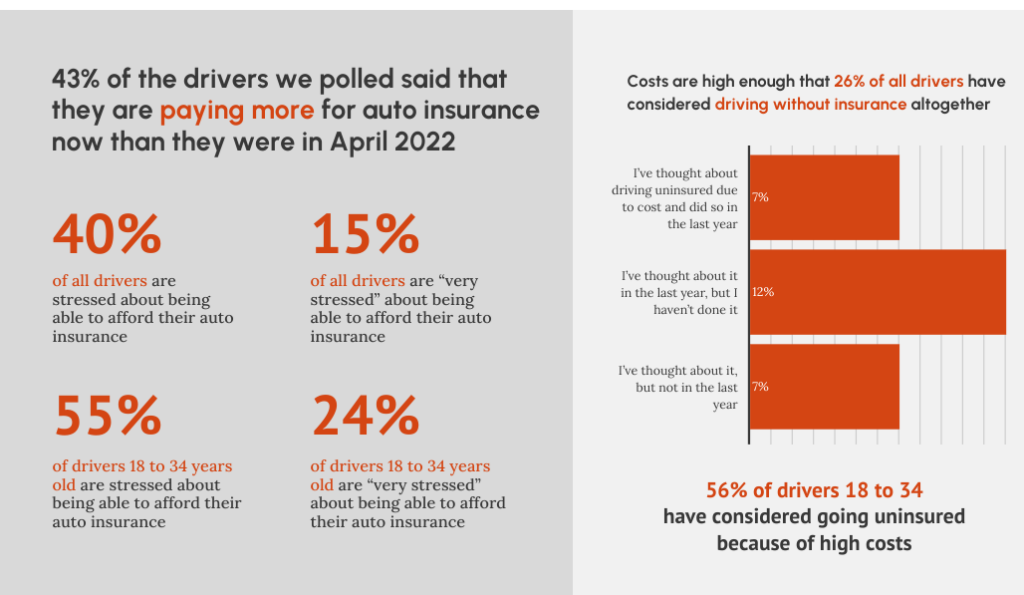 Policygenius commissioned YouGov to poll 2,780 U.S. adults in April, with 2,134 of those participants carrying auto insurance.
It found that while one-third of insured drivers were mulling switching carriers, just 15% transitioned to a new company prompted by rising rates.
The survey found younger drivers to be most likely to switch carriers, with 25% doing so. Among those aged 55 and older, just 10% reported switching car insurance companies within the past year because of cost.
Those on the hunt for alternative carriers can find some pointers in Forbes, which just published a list of the top insurance companies for the month of May. It found the best options are:
American Family because of its small number of complaints;
Auto-Owners for drivers involved in an at-fault collision;
Nationwide for telematics-based coverage;
USAA for military members and veterans;
GEICO for cheapest rates;
Travelers for gap insurance coverage;
Westfield for family discounts;
Progressive for those with DUI convictions; and
State Farm for policy renewals.
Forbes said collision repair professionals favored Erie, which was also among the favored insurers in a Wisconsin Collision Repair Professionals (WCRP) ranking of 20 insurance companies, based on their overall experiences with claims handling. WCRP listed Acuity as the best insurer, followed by Erie, Auto-Owners, and Secura. Insurers included in the bottom five were Allstate, USAA, Liberty Mutual, GEICO, and The General.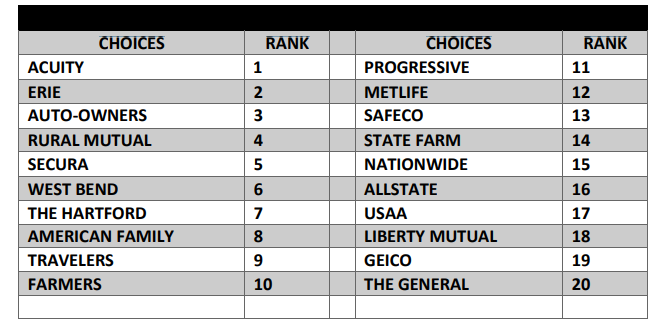 Earlier this year CRASH Network released its 2023 "Insurer Report Card", which included rankings by collision repairers on more than 87 auto insurance companies. The rankings were based on how well insurers work to ensure quality repairs and customer service.
Ten companies, including four of the largest U.S. auto insurers — USAA, GEICO, Liberty Mutual/Safeco, and Allstate — received a grade of C- or lower. None of the top 10 largest, best-known auto insurers received an overall grade higher than a C+.  More than 50 insurers scored higher.
Shops that participated in the survey told CRASH the highest-graded insurers put "customer safety first and foremost," "are fast and efficient" about claims handling, "employ people who care about what they do," and "actually care about their customers."
Separately, a new TransUnion report found that although insurance shopping rates continued rising during Q1, the number of policyholders switching carriers has dropped.
"Overall, we believe price was far and away the major driver for shopping thus far in 2023; customers simply were seeking lower premiums," TransUnion said in its report. TransUnion also said its survey "indicates that switching rates are down from last year, which may provide further evidence consumers have simply run out of lower-cost alternatives."
The reports were conducted as customer frustration over insurance rate increases continues to mount. And while overall inflation is expected to ease this year, claims costs will continue to be elevated, one report indicates.
A Swiss Re report listed annoying cost spikes in labor and healthcare, coupled with more frequent traffic accidents, will be most heavily impacted, and advised property and casualty (P&C) insurers to exercise "underwriting discipline" this year.
"The high-inflation environment has been expensive for P&C insurers," Swiss Re said. "The losses from Hurricane Ian at the end of 2022 contributed to a worsening of the P&C loss ratio but the main driver was the sharp increase in economic inflation.
"We anticipate that inflation alone increased P&C claims payouts by 5-7.5% in 2022 across five key markets. In 2023, we expect that inflation should lead to an additional increase of 3.5-6.5%. And for property, a short-tail business immediately sensitive to inflation impacts and rising construction costs, we estimate a 6-13% increase in 2022, followed by an additional 3.5-10% in 2023."
Swiss Re added that it expects P&C claims growth to ease this year as inflation cools and companies undergo repricing during renewals. However, it warned that non-economic factors such as social inflation and greater losses among vehicles and properties will require "further rate hardening" to offset.
"Signals for a market correction had been mounting long before the inflation-driven rise in claims 2022," Swiss Re said. "The underlying claims drivers indicate that higher primary insurance rates are likely. Sustained insurance underwriting discipline will be needed in 2023 to help improve underwriting results."
Images
Featured image credit: Prostock-Studio/iStock
Secondary images courtesy of Policygenius and Wisconsin Repair Professionals
Share This:
Related

link