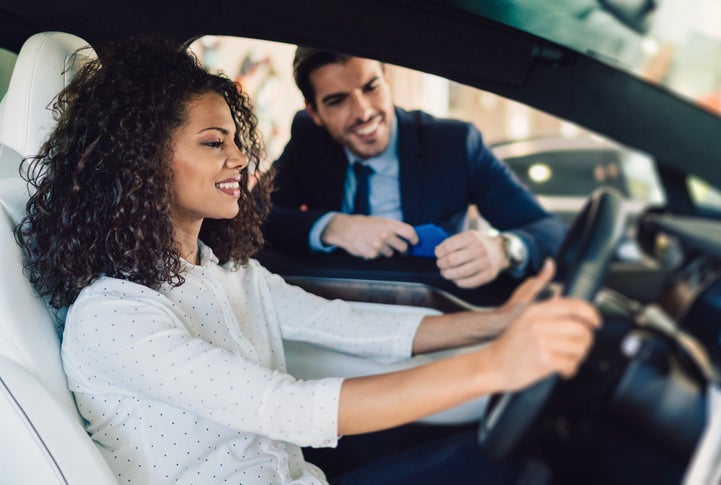 Choosing the right vehicle could mean more affordable insurance.
---
Key points
I bought a costly new vehicle recently, so I expected my car insurance rates to go up.
They didn't increase at all because I did my research carefully when I shopped for the car.
I also got insurance quotes ahead of time, so I'd know how much my insurance would cost.
---
A few months ago, I bought a very expensive new car because I needed a larger vehicle for my family. I had some specific requirements for the car as far as safety features and size, so I wasn't able to buy a used car like I usually do. And my new car ended up costing three times what my old one did, just because of the fact that it was a big vehicle with lots of technology standard with it.
When I bought this new car, I paid cash for it rather than taking a car loan. And it was very important to me to make sure my auto insurance premiums did not skyrocket. Since insurers price premiums based on risk, a more expensive car could theoretically have meant that my costs would go up dramatically. But, that didn't happen for a simple reason.
Here's why my auto insurance costs didn't go up with a costly new car
The big reason why my car insurance costs did not increase much when I bought my expensive new car is because I did my research carefully and I specifically selected a car that wouldn't result in huge costs.
See, while my vehicle would require a more expensive insurance claim if an accident happened, some of the safety features that it comes with both reduce the chances a crash will happen and reduce the likelihood of serious injury if a collision does occur. These were the very same features that prompted me to buy the car in the first place despite the cost — I wanted to be able to keep my kids safe while driving to activities or while taking family road trips.
I know that insurance companies keep track of accident claims data for various types of vehicles, and that it is possible to check the prices of insurance for different cars before buying them. So, to make sure my insurance costs didn't go up a lot — and to confirm I was buying a car that doesn't result in a lot of expensive crash claims — I simply got some quotes for insuring several of the different kinds of cars I was interested in.
Once I had a list of a few vehicles, I got quotes from several insurers for the different cars that I was thinking about buying. This enabled me to select the car that came with the lowest auto insurance premium prices.
Discover: Save money with one of these top-ranked car insurance companies
More: Check out our picks for best car insurance companies
How to avoid surprise auto insurance costs
Buying a new car can be a big decision — especially for drivers who commit to car payments in order to make the purchase. It's always important to make sure the total costs of ownership are within your budget, even when insurance premiums are factored in.
That's why it is a good idea to research auto insurance costs before making a purchase. Insurers will allow drivers to get quotes for cars even if they don't yet own them so drivers can input the details about which vehicles they may be interested in buying. Doing this first before making a purchase can help motorists to find out which cars are the cheapest to ensure so they can avoid unpleasant surprises.
Our best car insurance companies for 2022
Ready to shop for car insurance? Whether you're focused on price, claims handling, or customer service, we've researched insurers nationwide to provide our best-in-class picks for car insurance coverage. Read our free expert review today to get started.
link