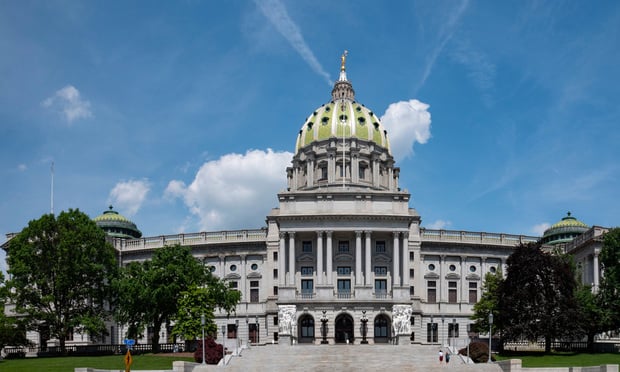 In a first-impression matter centered on when auto insurance customers can waive stacking benefits, plaintiffs counsel argued before the Pennsylvania Supreme Court on Tuesday that deleting a vehicle from an insurance policy constitutes a "purchase." 
The justices, however, did not seem convinced. 
"You're asking us for mental gymnastics," Justice Kevin Dougherty said shortly into the plaintiffs' argument that removing a car from a policy creates the same renewed chance to waive stacking that adding coverage for an additional car does. 
Under Pennsylvania's Motor Vehicle Financial Responsibility Law, insureds are entitled to uninsured and underinsured motorist coverage stacking unless they waive the benefit when they purchase coverage. The defendant, State Farm Mutual Automobile Insurance Co., had denied the plaintiffs stacked coverage for an accident on the basis that they had signed such a waiver.
But plaintiffs Robert and Kelly Franks claimed that waiver did not apply to their current policy. 
James Hockenberry of the Law Office of Leon Aussprung argued on behalf of the plaintiffs that the Franks would have had to sign a new waiver because they had deleted a car from their policy in the time since they last waived coverage.
Under the MVFRL, Hockenberry said, that removal constituted a purchase because the plaintiffs' potential UM/UIM coverage and premiums decreased. He said in making the change the Franks obtained a new option to buy a stacked policy for their two remaining vehicles, which constituted the "acquisition" required to meet the definition of a purchase.
"That's a creative argument," Chief Justice Debra Todd said, "but I think it's a stretch." 
"Acquisition is adding, and removing is not adding," she said. 
Justice Christine Donohue, too, criticized Hockenberry's interpretation of a "purchase" as overly broad. "In order to hold in the manner in which you're arguing we would have to read 'purchase' to mean any change in coverage. I mean that's the essence of your argument," she said. 
Riley Safer Holmes & Cancila's Sondra Hemeryck, arguing for State Farm, said the language of the MVFRL and past precedent dictates that a purchase involves an insured obtaining something they did not already possess. Since the plaintiffs did not buy a new policy when they deleted the vehicle, she said that definition did not apply to them. 
"It's not this sort of abstract opportunity to buy something," she said. "The statute refers to the purchase of UM/UIM coverage."
The plaintiffs in the case, captioned Franks v. State Farm Mutual, claimed State Farm should have paid $200,000 in coverage for Robert Franks' 2016 accident with an uninsured driver — double the amount State Farm had offered.
Their appeal seeks to overturn a split decision from an en banc Superior Court panel holding that deleting a vehicle does not constitute a purchase under the plain language of the MVFRL. 
In a dissenting opinion, Superior Court Judge Daniel McCaffery said based on the MVFRL's purpose of advancing consumer protection, he would conclude the statute requires insureds sign new waivers any time the amount of their UIM coverage changes, whether the change is an increase or a decrease.
When asked about her analysis of McCaffery's opinion, Hemeryck said the dissent's interpretation would "really stretch the word 'purchase' beyond any rational ordinary meaning."
Related:
link