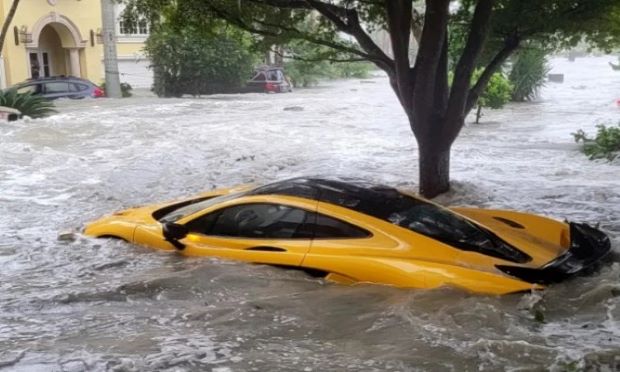 One of the most-shared viral images to come out of Hurricane Ian was a photo of an ultra-rare McLaren P1 submerged up to its windshield in floodwaters after floating out of its owner's garage. The highly collectible car had only 300 miles on it and was valued at more than $1 million, but now it's likely on the books of its insurer as a total loss.
But the term "total loss" is a bit of a misnomer once you factor in the potential revenue generated by the car — and thousands of other more mainstream vehicles that were damaged during Ian — in the thriving salvage auction market. These marketplaces, which list and sell the vehicles insurers deem too far gone to repair, are generating huge revenues for insurers. Copart, for example, one of the largest players in the vehicle salvage and remarketing space, generated $2.2 billion in sales in 2020.
Thanks to a combination of stratospheric vehicle repair costs, increased adoption of online auctions and growing numbers of bargain-hunters looking for a deal on expensive or hard-to-find parts, the salvage market is thriving. But it could be much better.
In its current form, the typical insurance salvage sale is a bare-bones affair. Many still occur offline in giant lots filled with crashed cars and vehicle wholesalers. Those that have moved online will often contain just basic information and a photo or two of the vehicle, without much detail on what features and options it may contain or the extent of damage sustained.
Contrast this approach with the growing trend in the consumer marketplace toward online automobile auctions that contain an obsessive amount of detail about each vehicle. The online car auction site Bring a Trailer, for example, which sold $828.7 million worth of cars in 2021, eclipsing the total sales of legacy collector car auction houses like Mecum Auctions or RM Sotheby's, typically offers upwards of 200-300 photos of each vehicle listed, along with feature-laden descriptions of every inch of the car. Similarly, the proven formula on every vehicle sales site from eBay Motors, Craigslist and Facebook Marketplace has been more, more, more. More detail plus more photos and video equals more money.
This should not come as a surprise. The 2020 Nobel Prize in Economics was awarded to Stanford economists Robert Wilson and Paul Milgrom for their improvements to auction theory. Among their key findings: Auctions that link descriptions of value for items at auction create more and better bids resulting in higher overall auction transactions.
J.D. Power recently tested the theory in a pilot study with real-world salvage auction bidders and the results were consistent with the Nobel Prize-winning research. Consistently, when bidders had more detail on the exact specs of the vehicle, including VIN-level detail on specific features and options and the configuration of that individual vehicle, the total number of bids and average selling price increased.
That brings us back to our Florida McLaren. The car will likely surface in a salvage auction soon and the difference between recouping the lion's share of its $1 million-plus insured value or chalking it up to a "total loss" will come down to detail. Is its active rear spoiler, which provides additional downforce under hard braking, still functional? Are its 24 karat gold heat shields intact? Or, in the case of the thousands of more mundane but no less profitable Toyota Camrys and Nissan Altimas that sustained flood damage during Ian, what specific configurations of options and features do they have?
The salvage game is an exercise in detail. To maximize profit, both buyers and sellers need to sift through every nut, bolt and component to find the money-makers and make that information available to as wide a list as possible. Detailed, trackable and instantly identifiable vehicle data is the key to unlocking that potential.
Marty Ellingsworth is executive managing director of global insurance intelligence at J.D. Power.
Related:
link