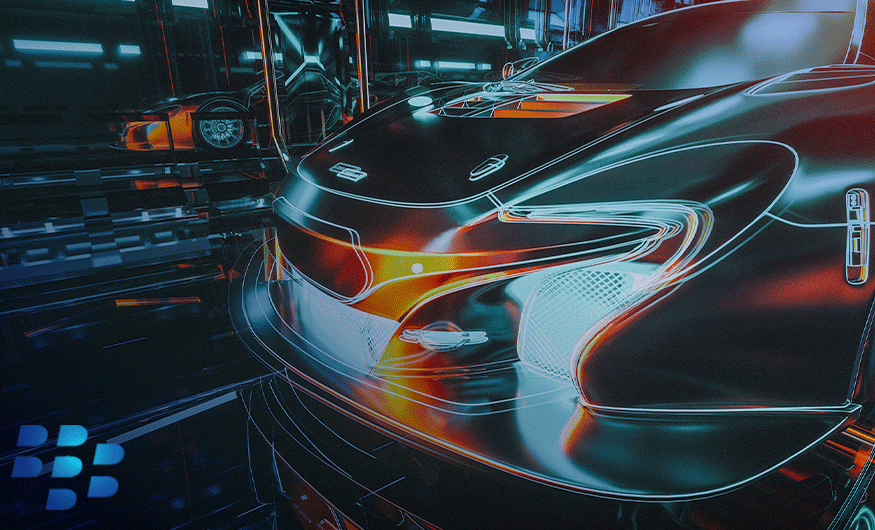 BlackBerry's transformation story added some new chapters today, here at CES® 2023 in Las Vegas. We shared several major announcements. Before I get to those, let me add some brief context about our IoT business division.
More than 55 of the world's automotive OEMs are BlackBerry customers. Audi, BMW, Ford, GM, Toyota, Volkswagen's 13 brands, Volvo — and seven of the top ten Chinese automakers, among others — rely on BlackBerry for safety and security, as well as acoustics and other functionality, within their increasingly software-defined vehicles.
Our technology is now rolling along the world's highways in more than 215 million vehicles, an increase of 20 million from last year.
CES Announcements Today
It was against this exciting business backdrop that we made five significant announcements:
This morning we announced our first BlackBerry IVY™ design win with a leading Chinese automaker, Dongfeng Motor, which selected the PATEO Digital Cockpit powered by BlackBerry IVY to be deployed in its next-generation all-electric VOYAH model, following the successful completion of a proof-of-concept (POC) project.
As a result, Dongfeng will be empowered to rapidly deploy innovative new applications to enhance the in-vehicle experience for drivers and passengers alike. Set to enter mass production in 2024, the premium VOYAH model will also incorporate Electra Vehicles Inc.'s battery management solution based on IVY, which provides real-time, personalized recommendations allowing drivers to dramatically improve EV battery performance and range. Electra's unique AI-enabled software will do much to alleviate drivers' "range anxiety," one of the keys to unlocking increased global demand for electric vehicles.
We also announced that IVY is now pre-integrated on commercially-available digital cockpit platforms from leading Tier 1 automotive suppliers Bosch and PATEO, and via the AWS Cloud.
The three implementations are being demonstrated now at both the BlackBerry and Amazon CES booths, marking the first time BlackBerry IVY has been shown publicly in a vehicle.
The solution will reach general availability in May 2023, representing the culmination of two years of comprehensive development efforts and numerous iterations, all pressure-tested with partners and customers around the world.
As our ecosystem continues to grow, we also have a number of new use cases being demonstrated at our booth to show what IVY can now enable via our partners. These use cases include predictive maintenance, usage-based insurance, in-vehicle payments, next-generation 9-1-1 emergency response, and intelligent EV battery management, just to name a few.
Following last Fall's announcement that BlackBerry is expanding its work with AWS to elevate our foundational BlackBerry® QNX® software platform to the cloud, today we're pleased to announce general availability, very shortly, of our industry-leading QNX® real-time operating system (RTOS) on the AWS Marketplace.
This milestone represents the first time ever that our technology has been made available to developers of mission-critical embedded systems via the cloud. This will turbocharge their development efforts, and significantly reduce time-to-market for their products.
Both Marelli and Continental, two of the world's leading Tier 1 suppliers, are among the companies that have been trialing the solution for development of their next-generation automotive technologies, and their feedback has been unanimously positive. In fact, Marelli noted that QNX in the cloud has "revolutionized (our) way of working" and represents "the pivot that they were waiting for, to help transition to software-defined vehicles," or SDVs.
Speaking of Marelli, we also announced an expansion of our 7-year collaboration with the company, which will deploy our new Acoustics Management Platform (AMP) as the foundation for its enhanced in-car acoustics experience in its next-generation connected vehicles.
With this deployment, Marelli will be able to reduce unwanted echo and background noise which have long plagued hands-free communications in the car.
Earlier this year we partnered with MotorTrend, the global automotive media powerhouse that's responsible for the highly coveted Car/Truck/SUV of the Year awards. Our goal was to create a program that would recognize and celebrate excellence in the field of automotive software development. MotorTrend's world-class editorial team saw the increasing importance of software in building the cars of today, and tomorrow, and they were eager to showcase leading individuals and their roles in pushing the boundaries of vehicle design and engineering.
As part of that collaboration, this evening we'll be recognizing the first-ever winners of the MotorTrend Software-Defined Vehicle Innovator (SDVI) Awards, honoring leaders and pioneers who are setting a course for the auto industry's once-in-a-century transformation from hardware to software.
As it turns out, the timing of this ground-breaking editorial and awards program couldn't be better. Speaking with automakers and Tier 1s — BlackBerry's long-term automotive QNX customer base — we've learned that nothing is more important to them today than the software and electronics that are redefining how cars are designed, built, driven and experienced by consumers.
Many recognize that perhaps their biggest immediate challenge is hiring enough skilled developers and software engineers to deliver compelling new in-car experiences that will truly differentiate their products in the market. Elevating the profiles and honoring the contributions of the individuals powering this transformation will help automaker attract the talent they need to compete and flourish in the future.
Securing the Software-Defined Vehicle
These are exciting announcements that will contribute to the way the next generation of transportation evolves to meet the needs of consumers over the next century. However, ensuring the safety and security of those consumers is still very near and dear to the heart of BlackBerry.
This is another area where I believe we are uniquely positioned to add value: The emerging software-defined vehicle is one of the most important and complex endpoints that most of us will ever encounter in our day-to-day lives — and like all other digital devices that humans rely on, it will need to be secured.
It's one thing to open up your laptop and be faced with the dreaded "blue screen of death," or to find your smartphone "bricked" and in need of a reboot. That's an inconvenience. But it's quite another matter to lose control of your connected car while barreling down the highway. QNX was designed first and foremost to meet the stringent safety standards required in today's automobiles and other critical real-time systems. Adding ironclad security to SDVs is a critical next step.
Moving forward, the possibility of malicious actors attacking these digital platforms is an increasingly real and present danger that we simply must address. 
And given the sharp increase in cybersecurity attacks we've seen across other regulated industries over the last year — from energy grids and pipelines, to healthcare systems to the financial sector — it is likely just a matter of time before threat actors begin to actively target our transportation infrastructure, and the vehicles connecting to it.
We can reduce this risk by investing today in the security of SDVs and the infrastructure to which they connect.
As connected, autonomous, shared and electrified (CASE) vehicles become more widespread, it will be important for automakers and suppliers to continue to work collaboratively on new holistic approaches that address the ever-changing cyberthreat landscape. This includes equipping next-gen vehicles with best-in-class cybersecurity solutions, like BlackBerry's Cylance® AI-powered endpoint protection platform.
To experience the convergence of cybersecurity and automotive software platforms in action, please visit our CES booth for a personal demonstration.
I hope you can sense my excitement about the opportunities ahead for BlackBerry, a leader in the future of IoT enablement, safety, and security across all digital devices and platforms.
link