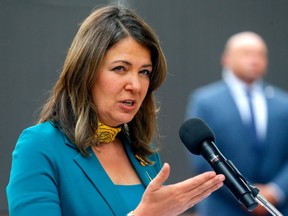 Article content
That was quick.
Article content
Smith has picked up the ball and started running and doesn't look the least bit intimidated by the insurance big boys.
Article content
This is night and day from the times when former premier Jason Kenney and his inner circle sure looked like they were carrying water for the fat cat insurance companies.
Premier Danielle Smith appears to have a whole new attitude in dealing with insurance companies and their lobbyists who are accustomed to getting their way.
On Friday, your scribbler asked the premier where Alberta is headed on insurance premiums.
It's an important question since the province's own auto insurance rate board surveyed Albertans and found a lot of unhappiness over premiums.
"There's no question the insurance premiums in Alberta are a problem," says Smith.
Article content
She tells us as recently as last week she was saying it's time to get going and find a way to bring rates down.
She just put in a call to Nate Horner, the Smith government's point man on insurance, who has been given his marching orders to make auto and property insurance more affordable for Albertans.
"Let's accelerate this. We've got to get some answers for people."
Read the following words of Smith very carefully.
"Here's what people expect. People expect if they have a clean driving record, no accidents and no speeding tickets, their rates are going to keep going down.
"That's what people expect. That's how insurance is supposed to work and that's not what's happened."
Far from it, in far too many cases.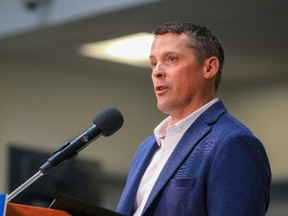 Smith doesn't look even close to blinking at the threat insurance companies might pull up stakes and leave the province if Albertans aren't grateful enough for their presence.
Article content
"I'll believe it when I see it," she says of the threat.
"There's obviously a lucrative market here."
Mic drop.
What's this? Are there no sacred political cows?
Smith takes aim at something Kenney brought into Alberta.
Drivers now deal with their own insurers to cover vehicle repair costs if they are not at fault in collisions. It's called DCPD and is part of mandatory auto insurance.
The government says a DCPD claim won't affect your premium since you're not at-fault but ….
There is always the fine print.
But an insurer may charge more for this DCPD coverage to pay the repair costs if you have a more expensive vehicle.
Here's Smith.
"That's why a lot of people saw their premiums go up."
And, breaking news, the premier wants to take another look at this arrangement.
Article content
"Most people think: You know what, the guy who hits me should be the guy who pays. I think we have to revisit that policy."
She also mentions insurance companies raising the issue of whether people are inappropriately using the legal system to get a payout.
"I want to see a little more evidence on that."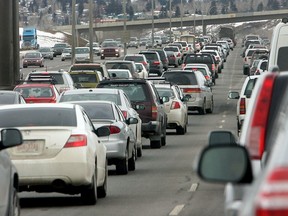 She doesn't take the insurance industry's word for it.
Smith must have had a big breakfast Friday.
She was not Policy Wonk Premier this day but Straight To The Point Premier.
The premier points out Alberta once had the lowest insurance rates in the country.
Now the auto insurance rate board doesn't even compare the premiums of all provinces.
While dealing with other bread-and-butter issues, Smith attacks the Alberta NDP for high electricity costs and slams their phasing out of coal as too early.
Article content
Bell: Alberta auto insurers, what will Smith do with these whiners?

Advocate warns of 'domino effect' in Alberta with auto insurance company's looming exit

Bell: Alberta insurance anger, biting report, over to you Premier Smith
And then there's the top-of-mind tussle that really went to the next round the first day of the Calgary Stampede when Prime Minister Justin Trudeau would not show any compromise on his green schemes.
If Trudeau's plan goes through, to have a net-zero emissions power grid in 12 years in a province with lots of natural gas power, Smith says bills here could go up to five times higher.
That's five times higher.
"If anybody is wondering why we are battling so hard with the federal government to make sure we have a reasonable amount of time to phase-in lower emission sources of power, this is why."
There are those who will say Smith is meddling with free enterprise when she appears to go hard on the insurance file.
She states what's obvious to everyone but some insurers and the 4% of Albertans who think insurance premiums are swell.
You own a vehicle. You drive a vehicle. The government tells you to get insurance — or else.
"You bet, the government has a role in making sure these premiums are reasonable."
link