Boutique auto insurance companies earned higher satisfaction scores than industry behemoths such as GEICO, Progressive, and Allstate in Consumer Reports' (CR) latest member car insurance survey.
It's the latest indication that consumers appear more inclined to choose smaller companies with more comprehensive coverage over larger insurers that might lack breadth of coverage, even if it costs more.
In ranking of 36 companies, USAA, NJM, Amica and Erie topped the list despite spending less on advertising and being less familiar than their competitors, CR said. All four of the insurers received favorable scores.
USSA was the lone insurer to receive exceptional scores throughout the rating categories, which included:
Price paid for premiums;

Claim settlements;

Non-claims customer service;

Proactive attempts by the insurer to help and offer advice to customers;

The thoroughness of policy options;

Breadth of coverage; and

Clarity of a policy's contract.
"USAA was alone in earning top marks for how thoroughly and clearly it presented its policy options to consumers, according to Consumer Reports members who responded to a survey we conducted last summer," CR said in its report.
"NJM, Amica, and Erie were the only other insurers that received top scores for claims servicing, non-claims customer service, providing proactive help and advice, and breadth of coverage. In addition, NJM also earned the highest satisfaction rating for pricing."
Interestingly, USAA is the only company in the top four to offer nationwide service. 
The "favorable" category, the second-best possible ranking, encompassed 15 companies including some more familiar names like State Farm and American Family.
GEICO, which CR said is the "car insurer that spends the most money on advertising," was among 15 insurers in the midrange tier of its ratings. 
"In fact, most of the 10 largest insurance groups in the country—including big advertisers Progressive and Allstate—got this passable overall grade from our members," CR said. "Liberty Mutual, another major auto insurer, joins Kemper at the bottom of CR's ratings, with a less-than-stellar overall score that puts them in our 'unfavorable' ratings tier."
Allstate, Kemper, and Liberty Mutual earned the lowest possible score, "very unfavorable," because of premium pricing.
Market shakeup
Alternative insurance companies such as Chubb are responding to the need for more comprehensive coverage through policies that cover repair aspects that might be considered an add-on, or even unavailable, through other companies. It lets policyholders choose their own repair shop, approves only OEM parts, and promises agreed value coverage for total loss, with no deductible or depreciation regardless of a vehicle's age or mileage.
A chart Chubb released for marketing purposes lays out the services it offers that its competitors do not.
"As you can see, we provide the highest level of protection for you and your family," it said. "Our Auto Technical Specialists are certified collision repair professionals, and act as safety advocates for you, making sure your vehicle is repaired correctly, every time."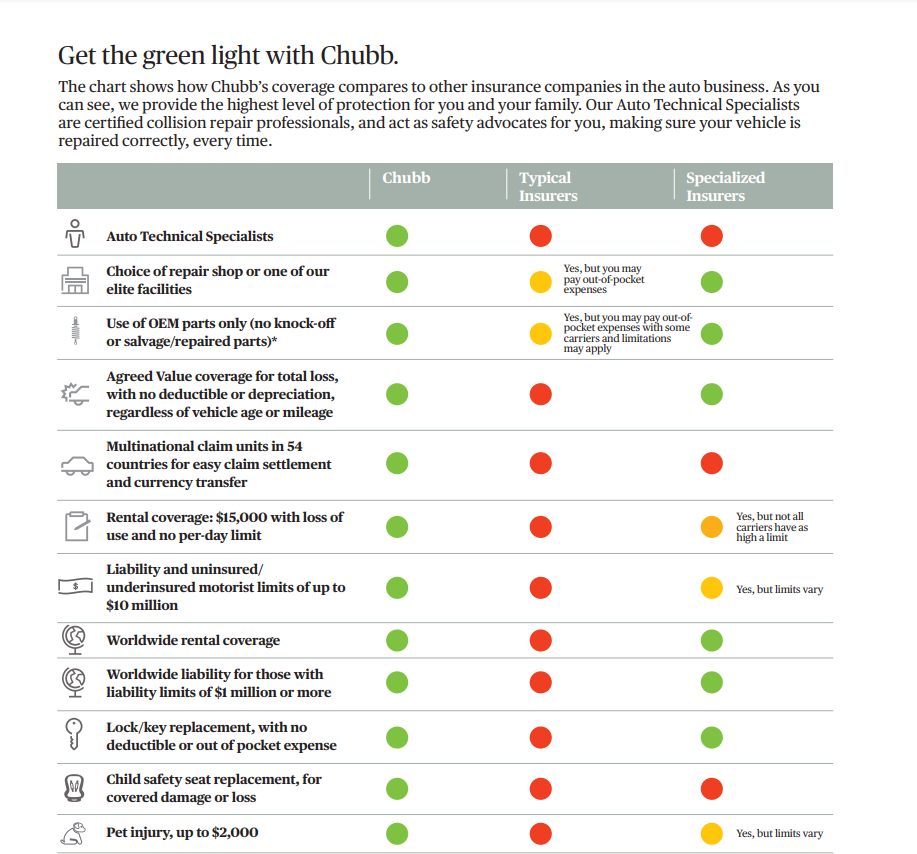 When shopping for car insurance, the cheapest choice is seldom the best choice. In a recent blog post, finance expert Dave Ramsey urged drivers to shell out the extra money to ensure they receive the coverage they need in the event of a collision.
"There's just one problem with going the cheapest route: Saving money isn't the only part of buying car insurance," Ramsey wrote in an article. "You also have to think about protecting your finances from the possibility of a 10-car pileup. (Okay, so that's a little unlikely, but you get the point: Car accidents can be expensive.) You need coverage that actually covers you—the kind that protects you from budget-busting car wrecks.
"You can fail that driver's test 11 times before you get your license, but you don't get a lot of second chances when it comes to car insurance. It's like wearing pants—you're either covered or you're not."
Chubb also noted that policyholders may pay out-of-pocket expenses if they chose their own repair shop. Out-of-pocket costs to policyholders could be as much the result of their choice of insurer as it is their choice of shop.
A repairer's perspective
Collision repairers graded more than 87 auto insurance companies in terms of how well they work to ensure quality repairs and customer service, with 29 receiving a B or higher to earn a spot on the "Honor Roll" in CRASH Network's 2023 "Insurer Report Card."
Ten companies, including four of the largest U.S. auto insurers — USAA, GEICO, Liberty Mutual/Safeco, and Allstate — received a grade of C- or lower. None of the top 10 largest, best-known auto insurers received an overall grade higher than a C+.  More than 50 insurers scored higher.
More than 1,000 individual body shops around the country graded 30 insurance companies in their state. They were asked to evaluate how well each insurer's "policies, attitude and payment practices ensure quality repairs and customer service for motorists," according to CRASH Network.
North Carolina Farm Bureau (A+), Chubb (A-), and Erie Insurance (A-) finished with the top grades among all insurers, which they have all done since 2020.
"While many of the highest-graded insurers – including Acuity Insurance (B+), Grinnell Mutual (B+) and Pemco Mutual (B+) – do not sell policies in all 50 states, consumers are likely to find one or more of the 'Honor Roll' insurers offering coverage where they live," CRASH Network said in a news release Tuesday.
Shops that participated in the survey told CRASH the highest-graded insurers put "customer safety first and foremost," "are fast and efficient" about claims handling, "employ people who care about what they do," and "actually care about their customers."
"Unlike most consumers, who typically have an auto claim only once a decade, collision repairers interact with the claims departments at these companies on a daily basis," said CRASH Network's John Yoswick. "That gives them an opportunity to see which companies are better at taking care of policyholders when they have a claim – and which ones have room for improvement. That's why we see the 'Insurer Report Card' providing helpful information for consumers as they consider which insurer to choose. They might see companies here they otherwise might not have considered."
Shop respondents also criticized the insurers to which they gave lower grades because those companies have "disorganized claims processes," "don't seem to care about the repair procedures designated by the automakers," and "have us ordering parts all over the country just because of cost, even though they don't arrive in a timely manner and are not quality parts."
The list of highest-graded insurers in 2023 was "remarkably" consistent with 2022's, according to CRASH. Eight of the 10 highest-graded insurers in this year's Insurer Report Card were in the top 10 list last year as well.
A free report with the 2023 Insurer Report Card findings can be downloaded at https://www.crashnetwork.com/irc.
Images
Featured image credit: utah778/iStock
Share This:
Related

link